Penning the murder mystery or How to kill people for fun and profit
If you enjoy curling up with a hot cocoa in one hand and a great who-dunnit novel in the other, you will want to attend the next Writers of Kern Monthly Meeting.
Scheduled for Saturday morning, April 17, 2021 and presented online free of charge via Zoom technology, WOK will feature best-selling cozy mystery author Dean James, better known to his fans as Miranda James. James will be sharing his fun and informative presentation, "Killing People for Fun and Profit"!
This will be a great opportunity to gain insight into the mystery writing and publishing worlds as James draws from his success both as an author, and 30 years of experience as general manager of Houston's renowned mystery specialty bookstore, Murder by the Book. Even if writing mystery stories is not your thing, all writers and would-be authors could benefit from attending this workshop.
Attendees at this event will learn about:
The basics of strong writing regardless of genre
The basics of writing for publication
How to juggle writing multiple mystery series
How bookstores operate and how small presses and self-published authors can best work with them
Register for this free event by going to Eventbrite (CLICK HERE)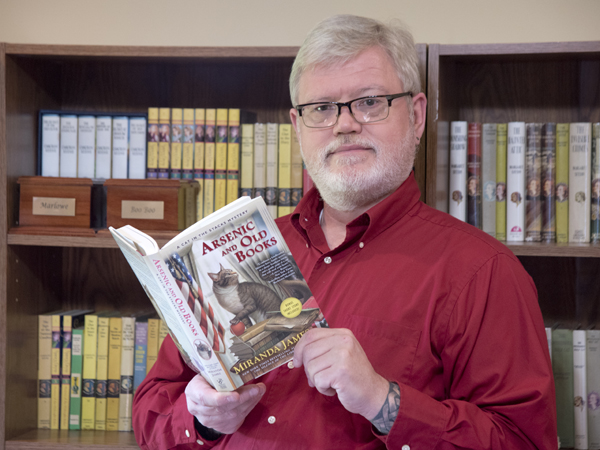 James has authored and co-authored several mystery series under various pen names including:
The Southern Ladies series as Miranda James
The Cat in the Stacks series (featuring librarian Charlie Harris and his famous Maine Coon cat, Diesel) also writing as Miranda James
The Simon Kirby-Jones series as Dean James
The Wanda Nell Culpepper series as Jimmie Ruth Evans
The Emma Diamond series as Honor Hartman
James is currently a medical librarian at the University of Mississippi Medical Center in Jackson, Mississippi. In addition to his award-winning success as the author of 30 mystery novels (his books have appeared on the New York times and USA Today bestseller lists several times), he has published articles on library science, the history of science and medicine, as well as co-authoring or co-editing six mystery reference titles and one short-story anthology.
To find out more about Dean James and his books, you may want to explore the following links:
https://www.facebook.com/dean.james1
https://www.facebook.com/mirandajamesauthor
https://www.facebook.com/DieselHarriscat
https://www.facebook.com/Cozy-Mystery-Share-A-Palooza-1438002186419017