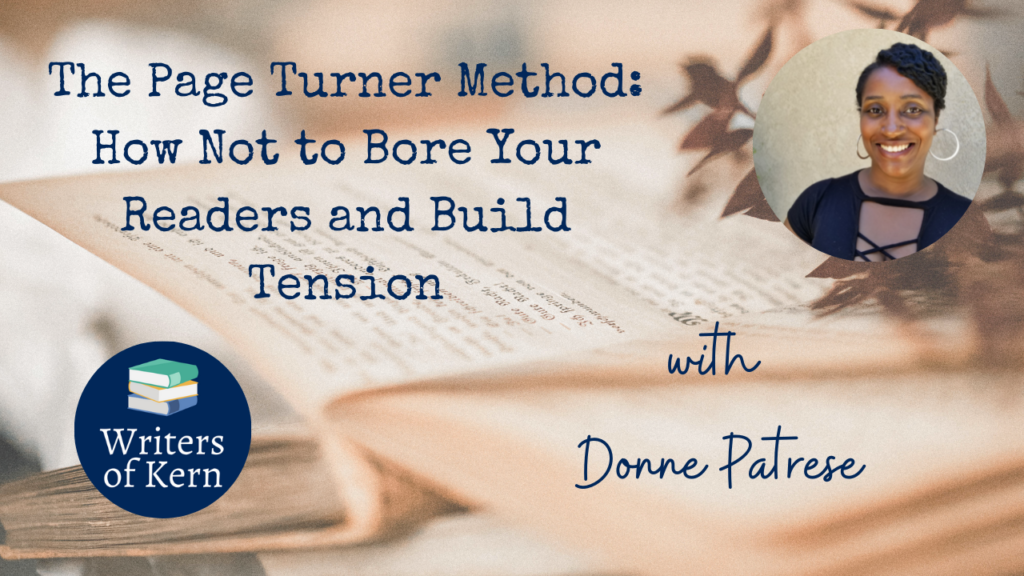 Workshop Title: The Page Turner Method: How not to Bore your Readers and Build Tension.
Do you ever worry about boring your readers? With lackluster dialogue and too much description, will people turn the page to the next chapter or put your book down for good?
How do you keep an audience interested?
Well, I have a page turning method that will not only keep your audience engaged but will also help you build tension in your novel or non-fiction piece. I'll show what can make readers utterly bored, give tips on how to add tension and best practices on how to keep readers interested.
Purchase Tickets Here: $15 Members and $18 Nonmembers
Bio:
A spicy romance and romantic suspense novelist, blogger, short story writer, youtuber and speaker, Donnée Patrese was born and raised in Gary, IN where her love for writing blossomed. She worked as a Journalist at The Post Tribune and the Indianapolis Recorder for 2 years and won an award with the Indiana Association of Black Journalist before deciding to be a full-time novelist.
Lover of books and a slave to the wonders of her mind, she has published seven books through First Draft Publishing, including the Prohibited Trilogy, Diary of a Wanted Woman and Burned: Deadly Desires.
She has a BA in Journalism from Butler University in Indianapolis, IN and is a lifelong member of Delta Delta Delta Sorority. In 2012, Donnée Patrese moved to Bakersfield, CA where she and her husband raise their beautiful daughters.
Social Media Links
Facebook: https://www.facebook.com/DonneePatrese
Instagram: https://www.instagram.com/donnee_patrese/
Twitter: https://twitter.com/Donnee_Patrese
Tiktok: https://www.tiktok.com/@donnee_patrese
Website
Link to my books on Amazon.
Email: [email protected]