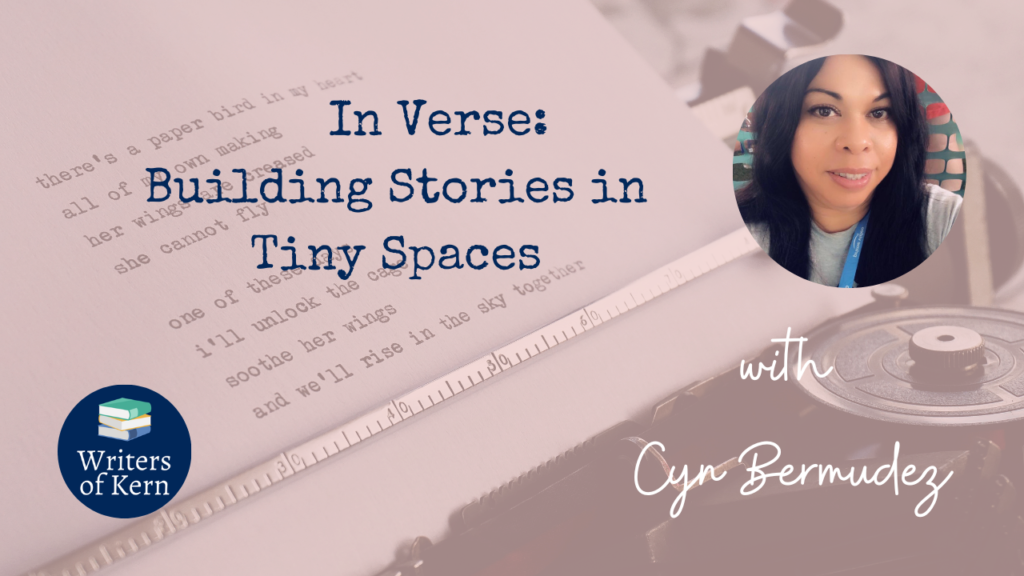 Workshop title: In Verse: Building Stores in Tiny Spaces
This workshop will focus on poetry as a narrative technique and method for storytelling. Topics include novels-in-verse, prose poetry, and the narrative poem. Participants will read and discuss the vignette. Participants will also read, write, and discuss narrative poetry.
In this workshop participants will:
Examine different examples of narrative poetry, including novels written in verse and the vignette.
Learn how to world and character build in this compact form.
Learn how to build sensory detail and create unforgettable characters.
Write a short narrative poem.
Cyn Bermudez is an author, poet, and artist living in California. She is the author of the Brothers series, And the Moon Follows, The Dragons Club, and more. She writes in various genres: general, science fiction, fantasy, weird, horror, and more. She has short stories, poetry, and art published in various literary journals, magazines, and anthologies: Perihelion SF, Middle Planet, Building Red: Mission Mars (Walrus Publishing), and more. Cyn is an active member of her local writing community. She enjoys other creative outlets like photography, sketching, digital art, and painting. Cyn loves spending time with her family and friends, baking, crafting, and do-it-yourself projects. Visit her website for more information. www.cynbermudez.com
Cyn has two novels written in verse: The Dragons Club (West 44) and Graffiti Heart. Her narrative poetry has been published in various magazines and lit journals: Strangelet, Moledro, Devolution Z, and more.
Social Media Stay Connected!
| | | |
| --- | --- | --- |
| artist and illustrator | Instagram | @cynb.art |
| author | Twitter, Facebook, & Instagram | @cyncbermudez |
| editor, lit journal | Twitter, Facebook, & Instagram | @planisphereq |
| book trailers, readings, tutorials | YouTube | Cyn B |