En Passant
             For papa
  
 In passing, I shift my own weight
 Adjust my eyes to shadow.
 Defiant against rule.
 How long before we get caught in our minds                  
 My dad would say each part of life
 Is equating to profit and loss
 Hands spinning & weaving web through a city
 Overtaken by terror of commitment or the self.
  
 I refuse dictators & false commitments
 I keep the structure of myself, gazing
 & grazing weapons of my identity
 trying to adhere to certain standards, but those don't make me
 I am immune in the transgression, immune to whoever
 Forsakes this city we've built.
  
 I see new light flooding memories, blind 
 I want to appreciate pieces of life, savor it
 Attune every thought to darkness.
  
 ~ Shawn Anto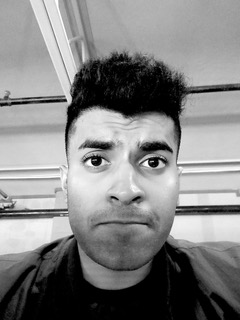 Shawn Anto is from Delano, California. He's originally from Kerala, India. He currently studies at Cal State Bakersfield looking to receive his B.A. in English & Theatre. He was last seen on stage in Dreamers: Aqui y Alla. Past theatre credits include The Profane, "Gasoline", and SubUrbia. His writing has been featured or are forthcoming in Reed Magazine, O:JA&L, Genre: Urban Arts, Mojave Heart Review, and elsewhere. He currently lives in Bakersfield with his mini-rex rabbit, Elio.