begins in one's dream,
is fed by one's heart;
it reaches one's mind
and passes outward
through one's hands,
eyes,
words,
and deeds
to be shared with mankind.
Must peace remain but a dream?
Unless nourished with love
and given in truth,
peace will remain but a word
upon lips of the dumb
—Shelley Evans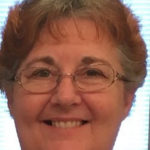 Shelley Evans has been writing poetry most of her life. It was destiny, as she was named after the poet, Percy Bysshe Shelley. Many of her poems are inspired by the beach and are often written with her feet in the sand at Pismo. One of Shelley's favorite activities is rhyming her way through life. Shelley has two poems published in the 2018 anthology, Writing Flora, Writing Fauna, A Collection of Poems from the Southern San Joaquin Valley.