Problems
Problems
Problems
No wondering when they'll appear
But when you do, you try to solve
Although it's not as easy as closing a door
An immortal chore
No time to runaway
They'll never stray
Living problems never leave
There's a way for sure.
Do not close that door
We just have to find the cure.
—Rose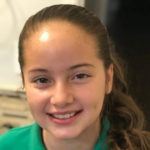 Driven by empathy, Rose and her sister founded Kind Girls Make Strong Women, a volunteer organization determined to change the world one kind act at a time. She's considered a best-selling comic at her local elementary school and just finished her second full length, middle grade novel. When she's not saving (or creating) the world, you can find Rose with her trusty dog, Harry Potter.