WHERE ARE ALL THE ROSES
The sweet perfume of Spring
The promise of tomorrows
Each passing day would bring
And WHERE ARE ALL THE ROSES
I gave you through the years
At all those celebrations
Now marked with silent tears
How many times
I'd gaze into your young and laughing eyes
Those eyes which spoke of
Time that never ends and light that never dies
WHERE ARE ALL THE ROSES
They're gathered in a spray
And placed here in your mem'ry
Now that you have gone away.
You dared to dream then made your dreams come true
My dreams came true the day I married you
WHERE ARE ALL THE ROSES
Each year a fresh bouquet
I bring to say your mem'ry
Lives in me every day
—Nelson Varon (Words & Music)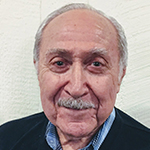 A musician and a writer of song lyrics & poems, Nelson Varon was also a NYC school teacher, the founder of Nelson Varon Organ Studios in NYC, a published songwriter & author of PlayNow Method For All Organs. He wrote feature articles for The Music Trades magazine, and How to "Open a Piano & Organ Store" (a chapter in the industry publication, How To Open A Music Store) and the short story, Fixing Things. He was also the founder, publisher & editor of The Music & Computer Educator magazine, and the founder of Kern Piano Mall, in Bakersfield.