Get Published – CWC Call for Submissions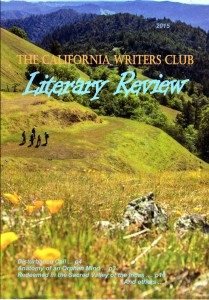 You likely know that the Writers of Kern is part of a larger group of writers, the California Writers Club (CWC).  Once a year the CWC publishes the Literary Review.  The Review reaches about 2,000 readers throughout the state.  D.L. LaRoche, Managing Editor of the Review says his publication is quickly becoming a force among published anthologies.  All the work included is blind-selected by a team of qualified editors.  
As a member of Writers of Kern you can submit your work for publication in this magazine.  Only about 30 or so pieces are selected.  You have a chance to see your work published in print.  If you are an associate member looking to move up to active member, you will receive credit for getting published if your submission is accepted.
So how do you submit your work?  I'll touch on the highlights here, but for the full submission guidelines visit the CWC site HERE to check the details for yourself.
You can submit up to two pieces per member.  It can be fiction, non fiction, or poetry.  Last year's edition had these categories:  Fiction, Memoir, Poetry, Essay, Book Extract, and Cartoon.
When received, your work is read and assessed by three qualified editors using standardized rules for grammar, structure, and story development. The editors apply their seasoned opinion — each giving comments and grade. The three grades, one from each editor, are averaged and the piece finds its way into a global ranking. The work garnering the highest grades are included in the publication, and those comments, unexpurgated, are sent to the author.
The CWC is a prestigious organization, well known in writing and publishing circles.  If your work is accepted in the Club's Review, a "juried acceptance", you know you have earned your way.  Getting published in the Review adds to your portfolio of published work.
But like they say in Vegas, "You can't win, if you don't play".  Time is running out.  You have until December 31st to get your submission to the editors.  All the information is at the CWC site.  Start the new year by being published.  Take your favorite piece, polish it up like a holiday apple, and submit.  Let's see some Writers of Kern members in the CWC Literary Review  this year.