Expressions Blog by Marie Elrich
"The Expressions Blog is dedicated to encouraging writers and readers wherever they are in their lives. I write about my own experiences in order to inspire you in one way or another." – From Expressions Blog
Marie Elrich has been writing since she was two years old.  She picked up her mother's magazines and copied them even though she had no idea what she was writing.  Marie Created stories for a second grade assignment and she has been hooked on writing ever since.  Marie graduated from Cal State Bakersfield and currently works at a magazine learning the marketing and publishing business.  She has been published in her college literary magazine, Orpheus.
Marie's Expressions Blog is a mix of reading reviews, writing tip, and life reflections.  Her favorite genre is fantasy. Marie enjoys reading Jane Austen, Diana Wynne Jones, Eoin Colfer and Rick Riordan.
Topping the list of Marie's favorite books are Sense and Sensibility, Howl's Moving Castle, Artemis Fowl #1, and The Lightning Thief.
Marie's Expressions Blog is part of the Writers of Kern A-Z Blog Challenge.  Follow the Expression Blog at  www.marieelrich.com  You can also find Marie on Facebook at https://www.facebook.com/marieelrichexpressions/ and her Twitter name is @MarieElrich.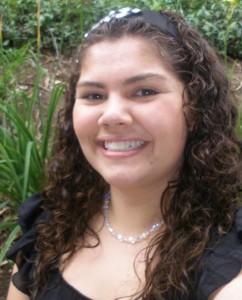 Personally, I can't wait until she gets to the letter "H" post on the Expressions blog because not a lot of people know that Marie owns a horse and loves to go riding.