Kid Lit Writers Get Together
Calling all Children's Writers:
Kid Lit writers take note!  Writers of Kern and the Society of Children's Book Writers and Illustrators (SCBWI) are teaming up for a Kid-Lit Mingle Saturday, January 30 from 1:00 to 3:00 at Russo's Books, 1601 New Stine Rd., #182.
The SCBWI is one of the largest organizations for writers and illustrators.  The organization is dedicated to those writers and illustrators working in the children's literature (Kid Lit) and young adult fields in all facets including magazines, film, and multi-media.  According to their mission statement the organization, "… to support the creation and availability of quality children's books around the world. We accomplish this by fostering a vibrant community of individuals who bring books for young readers to the public including writers, illustrators, translators, editors, publishers, agents, librarians, educators, booksellers, bloggers, enthusiasts and others. We provide education and support for these individuals  and the community through our awards, grants, programs and events. We strive to increase the quality and quantity of children's books in the marketplace, and act as a consolidated voice for writers and illustrators of children's books worldwide."
Whether you write picture books, middle grade or young adult, this is a great opportunity to meet fellow Kid Lit writers, share ideas and discuss writing goals.  Participants may bring the first page of a work-in-progress to share.
The event is not only social, Kid Lit writers will leave with 100 tips to help you on your path to publication.  If you are a writer or illustrator specializing in children's literature, you need to come to this event.  To RSVP contact Rebecca Langston-George at cencal-ara@scbwi.org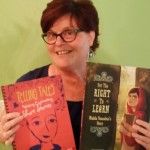 The author of six non-fiction books for children, Rebecca Langston-George is the Assistant Regional Advisor of the Central Coastal Chapter of the Society of Children's Book Writers and Illustrators (SCBWI). When she's not writing Rebecca can be found in her fifth grade classroom or procrastinating at her keyboard beside her tribe of sock monkeys.  www.rebeccalangston-george.com