by Susan Baker
Just as readers are hungry for the next great read, authors are always seeking an audience for their stories. Writer and content marketing specialist, Bill Belew and his 12-year-old daughter Mia understand this well. They were frustrated by what they found to be "a lack of books for preteens that challenge the young reader with new vocabulary and ideas worth thinking (about) but without diving into mature content."
So, they decided to team up to create their own books.  Together, they have coauthored three titles, The Giant Forest, The Heliuna Academy and The LoGlas Theater. which together make up the Growing up Aimi trilogy. Described as chapter books featuring realistic and thought-provoking situations that will appeal to middle school readers, these stories can also be enjoyed by their parents and grandparents.
Next, father and daughter had to find the best way to get their stories into the hands of their intended audience. With little if any expense, but with some work and determination, they built an online platform to successfully launch their book series. Through the creation of an author newsletter which they shared with only 20 friends and family members back in March 2020, the Belews started promoting their work. Since then, their newsletter subscriber base has grown to more than 3,500 subscribers and is expanding daily! The duo even reached the #1 ranking on Amazon in 3 separate categories, including Children's Historical Action and Adventure. Their fourth title in the series, the Floating City, will soon be published.
Bill and Mia are eager to share what they know about matching your writing with eager readers. They will be the featured guests at the next Writers of Kern Monthly Meeting to be held virtually on Saturday, January 16, 2021. Their presentation titled, How to find & engage readers for your books will focus on the benefits of creating an author newsletter, and then building and growing the newsletter subscriber base
Attendees will learn:
How to get "eyeballs on your books"
How to choose an email client to help manage your mail
How to build a subscriber base
How to create an engaging newsletter all about you, your brand, and your books
How to effectively promote and sell your books
As a sought-after expert at content marketing for multinational companies as well as aspiring authors, Bill offers a wealth of experience. Additionally, his three professional blogs, RisingSunOfNihon, PanAsianBiz, and TheBIZOfKnowledge, all found on KNOWMORE Media, has drawn millions of views!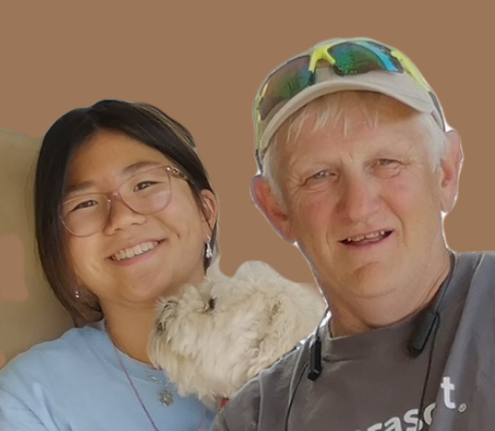 Mia, is a busy 7th grader at a leading edge, project-based, self-paced public charter school located in Silicon Valley. Like her father, she is also a blogger.