Full Circle
by Shawn Anto

they buried a boy
they never really knew
sprinkled salt around
the resting place
to prevent desecration
in their grief.

did I ever come full circle
like they wanted?

would you say
the redemption
of my life is complete?
 
if the dead want something:
have a face cut it in half
one for happiness
one for guilt
disregard any expectations
and wait for answers after
you pour the gasoline all over.
 
I never asked you
to set yourself ablaze
to keep me and my brother close.
 
the body settles in
somewhere you can hear a lullaby
a mother sings as she calls out to angels
dirty wings still territorial
caked with soil, uprooted.
 
even in death you sing
to enrapture and console me.
 
will they even listen?
do the dead want to hear—
 
maybe they will this time
as they begin their song too.

I walk closer to the fog
for I was closer to the devil.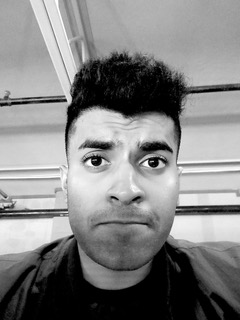 Shawn Anto is from Delano, California. He was originally from Kerala, India. His writing has been featured or is forthcoming in Reed Magazine, The Decadent Review, Sierra Nevada Review, and elsewhere.